Updated:2021-05-10
Posted Date:2019-10-01
Popularity:3364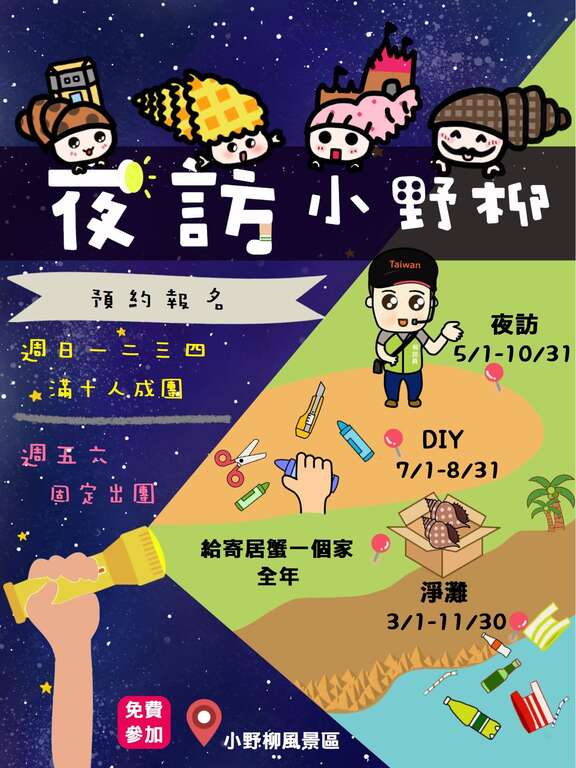 The east coast at night is as fascinating as it is during the day. In 2012, the ECNAS Headquarters launched an ecological excursion, Night Trip to Xiaoyeliu." The excursion allows visitors to experience the east coast at night. It also aims to let everyone learn about and protect our natural environment with activities that are educational yet entertaining.
Fugang Geopark (Xiaoyeliu) is about 8 km from downtown Taitung City. It is known for its rocks of strange shapes. "Night Trip to Xiaoyeliu" is held from May to October every year. During these months, a scheduled excursion takes place from
7:30 pm-9:30 pm
every Friday and Saturday; groups of 10 or more people can make reservations for excursions from Sunday to Thursday. Each excursion includes introductions to nocturnal plants and animals, a geological zoo, and stargazing. Since 2015, activities including "finding hermit crabs a home" and "collecting empty shells" have been added; these have received an enthusiastic response from people throughout Taiwan and restaurant owners. Visitors can also sign up for the beach cleanup while joining the excursion. During the summer vacation (July and August), you can make a reservation for the DIY activity of betel-nut spinning top. In addition, Fugang Geopark (Xiaoyeliu) obtained the environmental education facility certification in 2016 and has since launched two lesson plans: "Land Artists" and "Changing Shells Challenge—Let's Be the Protectors of the Environment," whose contents are rich and diverse. "Night Trip to Xiaoyeliu" has been held for many years and is well received by visitors, with the annual number of participants reaching 10 thousand. It is a famous night event on the East Coast.