Real-time world-class scenery at the East Coast just a click away!
Updated:2021-11-25
Posted Date:2021-04-24
Popularity:571


Introducing, the first 4K high-definition real-time imagery system on the coast of Hualien! Starting on April 15, the real-time imagery of Shitiping will be streamed live online, enabling viewers across the globe to enjoy the picturesque scenery on their mobile devices or computers. Tourists planning to visit Shitiping can check on the weather and sea state as well. With the help of technology and streaming services, the East Coast National Scenic Area Administration of the Ministry of Transportation and Communications (hereinafter referred to as the East Coast Administration) is able to deliver the photogenic view of the East Coast to the world 24-7!
Since 2020, the East Coast Administration has installed three high-resolution real-time cameras respectively at Duli Visitor Center, Sanxiantai, and Jialulan to offer offer "intelligent, friendly, and real-time" services to national and foreign visitors alike. Viewers can enjoy the incredible scenery of Sanxiantai Arch Bridge against the backdrop of the ocean via the Internet. The spectacular changes in sunrise hues on the clouds in Jialulan and Duli, the romantic starry night, and the mesmerizing sea illuminated by moonlight are simply one click away at the comfort of viewers' homes. Among the most renowned scenic attractions along the coast of Hualien is Shitiping, boasting world-class geographic landscapes like sea erosion ditch, cliff, potholes, and tidal pools. Moreover, the white cuesta composed of tuff is certainly a unique landscape not to be missed through real-time broadcasting.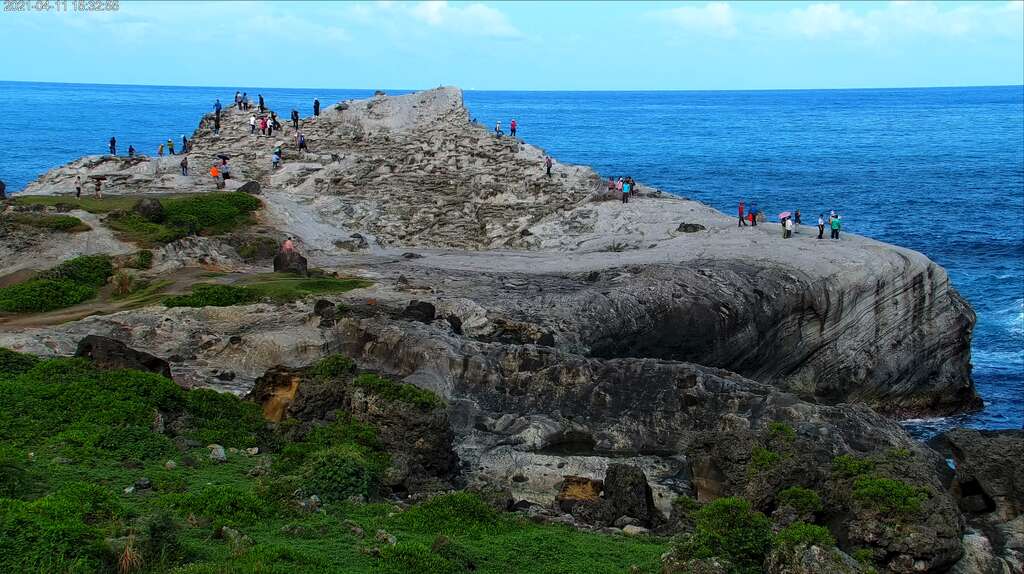 The imagery of scenic areas in the East Coast Administration live-streamed on YouTube allows viewers to immerse in the seasonal changes of the Pacific Ocean regardless of distance. Tourists planning to visit can also check on the current weather condition, visitor flow, and sea state in advance. A considerate online assistant is also of service on the platform, occasionally present when it's perfect for stargazing or sunrise watching. The assistant also interacts with tourists, edits, and uploads time-lapses for replay.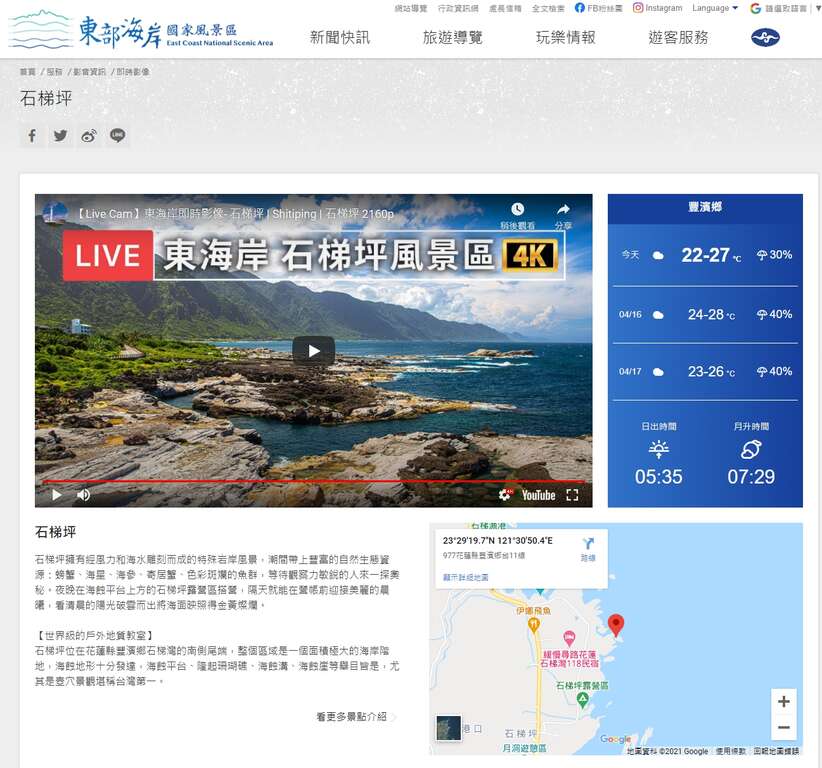 Top 4K High-Definition Real-Time Tourism Imagery Service in Taiwan
Since the launch of the East Coast tourism imagery system on September 1, 2020, it now has over 2 million views, 110 thousand hours watched, and over 8,000 subscribers. 25% of the viewers are foreigners mostly in Japan, the United States, and Hong Kong. In global application, real-time imagery systems are seen in renowned tourist destinations like Venice, Japan, and New York, substantially promoting tourism and attracting visitors. The real-time cameras on the East Coast bridge friends across the world to the beautiful scenery of Hualien and Taitung in Taiwan. It is certainly the most direct and effective approach to promote tourism in the post-pandemic era.